Tokens.net crypto exchange closure was announced on February 2nd, 2021. Termination of all operations would occur on April 1st, 2021?
Tokens (DTR) ICO raised 15 million USD, funds were collected with cryptocurrencies. Additionally, Quantum (QAU) merged its liquidity pool 2,417.32 BTC into Tokens.net, QAU were converted into DTR. Conversion period lasted three months, with one month extended. Average Bitcoin (BTC) price at that time was 6,700 USD and estimated additional 16,2 million USD were raised. 
Estimated yearly operating costs were less than 1 mio USD, according to Tokens holdings ltd., Tokens d.o.o. and Tokens ID d.o.o. balance sheets, or estimated 3 mio USD in total for three years. Swap of DTR (QAU) would be available for USDT at a fixed rate of 0.01124 USDT. With a total supply of 1.9 billion DTR (QAU) a maximum of 21.356 million USDT would be returned.
If liquidation is about to happen and these numbers hold, swap rate should be around 0,01484 USDT or 32,05% higher. Exit should be transparent, with exact numbers, especially at what time liquidity pool Bitcoins were sold and if there were any Bitcoin cash (BCH) left from the hard fork. ICO (QAU) holders would otherwise have every reason to believe, they were exit scammed.
Announced swap rate might be fair for ICO (DTR) holders. They are given a chance to exit at a higher than the ICO price, but this »market price« is still lover, than the liquidation price could be. Backers should have a chance to continue, exchange has not been Livecoin hacked, the trust could be restored with a realistic statement, about future plans and risks involved. If sufficent funds are left after the swap, that would be a sign, backers would like to continue. This could be done every year, if there was no progress.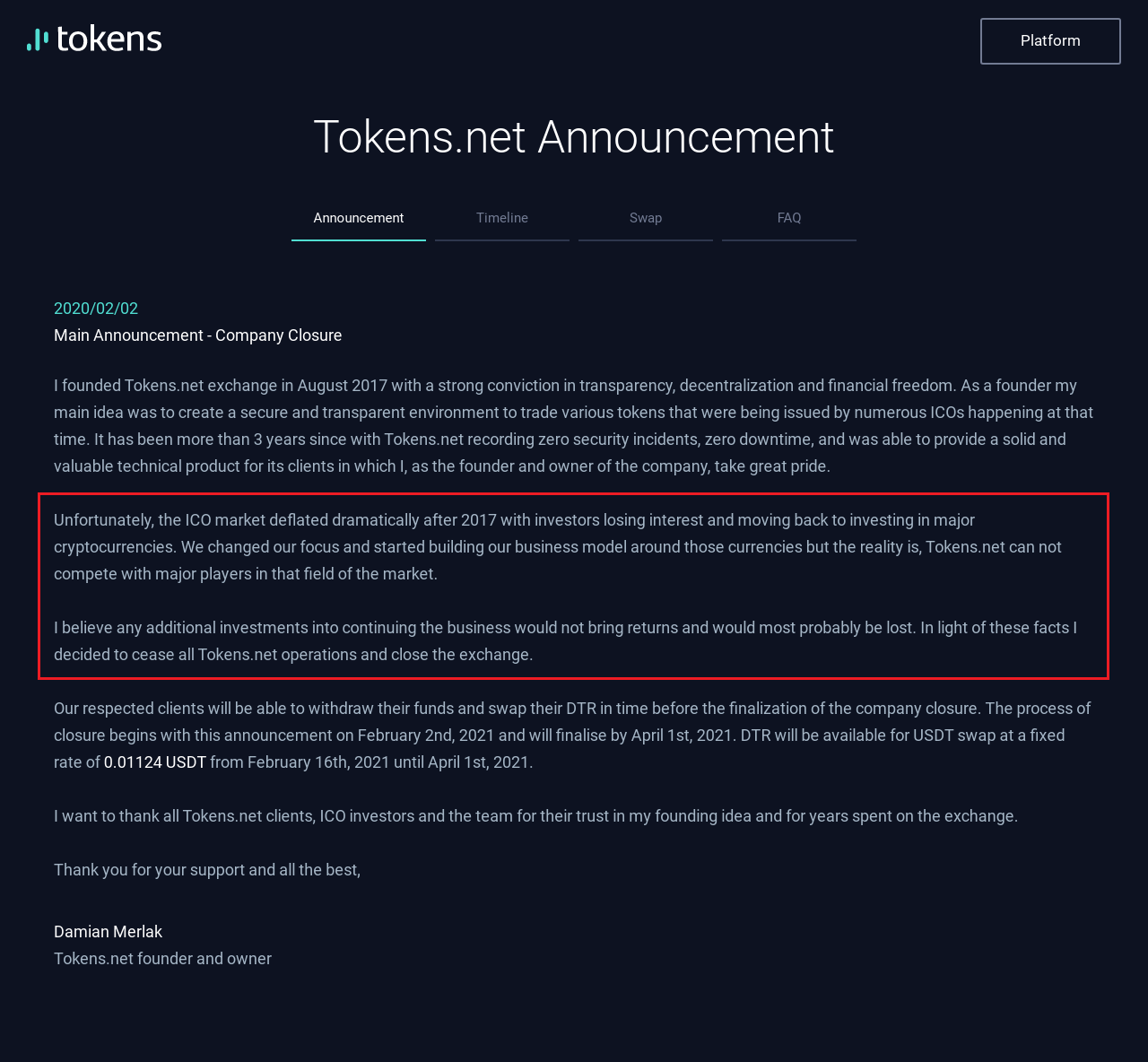 Exchange is nicely build, reliable, safe and it should not go to waste. If core developers, team decide to stay, project should continue. Would like to share some ideas with DM, as a voice of Tokens community, competative advantages that could/would work. If the company owner needs capital elsewhere, why not sell it to NK, Bitstamp cofounder, or someone else with a credible name in crypto space. Some jobs would be saved, paid coin listings would stay, loan takers would not be forced to repay in a short notice... At current costs, each year, DTR liquidation worth would be around 5% less, but the upside potential is much greater than that. Why not continue?